Are your clothes piling up and you can't seem to find your favourite shirts? Then you're just in time for your annual closet cleaning!

Wait... What? You've never had a closet cleaning before? Well, you're just in luck!

The Hawker

happens to be an expert at closet cleaning, and we're here to provide some guides to help make your closet look flawless.

BY GRADITA PURUKAN
Step 1:
Prepare one big box for the clothes you won't use anymore.
Step 2:

Take out all of your clothes from your closet. Start to pile them in several sections. You can categorize your clothes any way you like, according to colour, type, etc.
Step 3:
Now this is the hard part-letting go. Your clothes are a part of you, and every piece has its own sentiment. So how do you decide which one you should
KEEP
or
DUMP
?
The last time you wore it was a year ago.

DUMP

.




You accidentally bought the same garment.

DUMP

the twin.




They don't fit you anymore like they used to.

DUMP

.



Other than the above,
KEEP
.
Step 4:

Hang up the shirts you wear the most. For t-shirts, you can easily fold them in a pile to save hangers. For sweaters, make sure you fold them as their materials easily expand when hanged.
Step 5:
Now you can organize your clothes neatly inside the closet. I usually keep my closet colour-coordinated so that I can find clothes easily.
Step 6:
Don't forget about the clothes you want to dump just yet. Instead of dumping them, put the clothes inside the box you prepared and bring it to school! The clothes will be donated to the
KUNINGAN FLEA MARKET
and
GLOBAL JAYA'S ANNUAL FLEA MARKET
.
So what are you waiting for? Go clean your closet for a cause!
Powered by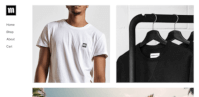 Create your own unique website with customizable templates.