I have found that in recent weeks, there has been a new addition to my study routine; going to Routine. Good food, decent coffee, neat (and not to mention insta-worthy) furniture and interior - the coffee & eatery is definitely the new go-to hangout and/or study place in Bintaro.

Address: Jl. Raya Wahid Hasyim Blok FG 14 No. 42, Lantai 1, Bintaro Sektor 7
Opening hours: 8 AM to 11 PM
Price range: 10 to 40k (drinks) // 22 to 60k (food)

Located above Ministop, the eatery offers a wide range of Indonesian, Italian and Western foods. The sofas are extra comfy, and there's something about the place's natural lighting and wood-dominated interior that just gets you in a productive study mood. The only thing that has been putting me off from my routine of going to Routine is the fact that their internet seems to be in a lot of trouble recently - but we do have a pro tip - lo make wi-finya Ministop aja. Wifi connectionnya nyampe sampe Routine kok.
Powered by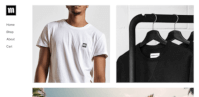 Create your own unique website with customizable templates.